Biden's gun control executive orders: Live updates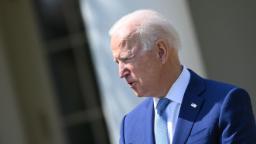 President Biden's steps on gun control are also expected to include nominating a gun control advocate to lead the Bureau of Alcohol, Tobacco, Firearms and Explosives.
The President is expected to nominate David Chipman as the next director of the bureau, a White House official told CNN.
If confirmed, Chipman will lead the agency that enforces gun laws at a critical point in Biden's early tenure, as the President looks to take fresh action on the issue in the wake of two deadly shootings last month.
"I don't need to wait another minute, let alone an hour, to take common-sense steps that will save lives in the future," Biden said last month. The President plans to announce new executive actions on guns Thursday.
Chipman, if confirmed, would return to the agency where he worked for 25 years as a special agent.
While at the ATF, he "disrupted firearms trafficking operations in Virginia that were supplying illegal guns to New York City, served as a member of ATF's version of SWAT, and was named the Special Agent in Charge of ATF's Firearms Programs," according to his bio on the website for Giffords.
He currently serves as a senior policy adviser at the organization led by former Congresswoman Gabby Giffords, who became a gun control advocate after being shot in 2011
She praised Chipman as "the perfect choice" for director in a statement Wednesday.
"The Bureau of Alcohol, Tobacco, Firearms, and Explosives needs a strong, experienced leader and I am confident that David Chipman will be just that. As a former ATF special agent, from day one David will be able to address the most pressing issues facing the bureau, including reducing gun violence in this country," said Giffords, who had represented an Arizona district.
Chipman, a Detroit native, received an undergraduate degree from American University and a master's degree in management from Johns Hopkins University.
The ATF has been without a permanent director since 2015.