Alexandria Ocasio-Cortez's terrifying ordeal (opinion)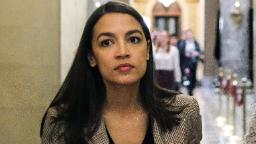 Her harrowing account, which she posted to
Instagram Live on Monday
night, is a reminder of just how violent the Capitol insurrection was, and how narrowly some of our elected officials escaped with their lives (others at the Capitol, including a police officer, weren't so lucky). And it's an unmistakable call to action: If we want to heal as a nation, we need real accountability — not the denial and distractions many Republicans are offering.
In the live social media broadcast, Ocasio-Cortez described hiding in a bathroom, where she had fled after hearing " huge violent bangs on my door and then every door going into my office," she said. "Like someone was trying to break the door down. And there were no voices. There were no yells. No one saying who they were, nobody identifying themselves."
Then she heard a man who had entered her office, yelling, "Where is she? Where is she?" As she tried to keep completely still and silent, "I thought I was going to die," she said. Calling upon her spiritual beliefs, "I felt that if this was the journey that my life was taking, that I felt that things were going to be ok," she said, tearing up. "And that, you know, I had fulfilled my purpose."
Thankfully, she made it through the terrifying ordeal. The man in her office was a Capitol Police officer, but Ocasio-Cortez said he was behaving oddly and aggressively, and she certainly didn't feel protected (the behavior of the Capitol Police during the riot is now subject to significant criticism;
two Capitol Police officers were suspended
and another 10 are under investigation for their roles in the attack, according to CNN's reporting in mid-January. A House aide separately said there are as many as 17 officers under investigation as part of eight investigations into the insurrection at the Capitol.)
But you can't walk on a broken leg before you repair the bone; you can't sweep an insurrection under the rug and assume it won't happen again.
The only other politicians who come close to receiving the same amount of vitriol are House Speaker Nancy Pelosi, former Secretary of State Hillary Clinton, Rep. Ilhan Omar and Rep. Rashida Tlaib — and what do all of those people have in common?
She's right. The demands to move on or forgive and forget aren't about healing; they're about escaping accountability. It's telling, too, that many of the people calling for unity without accountability are the same people who helped to break this country in the first place.
This is, as Ocasio-Cortez said, manipulation familiar to too many women (and some men, too). It leaves victims — in this case, not just members of Congress, but the American people — in a state of imbalance, at once trying to reconcile the gravity of what they experienced with the words of powerful, trusted people telling them that it was no big deal, they're partly to blame, and they should just get on with their lives. That kind of dissonance doesn't allow for healing. Instead, it trains us for acquiescence, shame, and self-doubt.
If you love someone, you don't attack them. And you certainly don't get to claim that you love someone and then incite an attack upon them, insist that the attack wasn't that bad, perhaps even blame them for it, and then demand they forgive and forget. But that's what so many Republicans are doing to the nation they claim to love today.
We're seeing this dynamic play out in real time at a national level. And a few brave lawmakers, including Ocasio-Cortez, are identifying it for what it is, and refusing to go along.
If we love our country — if we truly want the best for this place, and not just the satisfaction that comes from mouthing the right words — then we need to do the work of repairing this deep injury. That begins with a full understanding of what happened and full accountability for those who stormed the Capitol, those who encouraged them and those who now continue to cover for them.