Indonesian jetliner crashes into ocean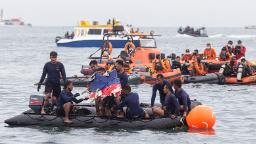 Updated 2:25 PM ET, Sun January 10, 2021
An Indonesian passenger jet crashed into the ocean minutes after takeoff on Saturday, January 9, with 62 people on board.
The Sriwijaya Air flight 182 — a Boeing 737-500 — crashed shortly after taking off from Jakarta, according to the head of Indonesia's National Transportation Safety Committee, Suryanto Cahyono.
It was heading to the city of Pontianak, on the Indonesian side of Borneo, when it lost contact at 2:40 p.m. local time (2:40 a.m. ET).
Four minutes into the flight, and amid heavy rains, the plane dropped 10,000 feet in less than a minute before disappearing from the radar, according to the global flight tracking service Flightradar24.
The crash site was confirmed Sunday morning by the Indonesian National Armed Forces and Navy divers were deployed to search for the wreckage.
The focus of the search is between the islands of Laki and Lancang, known as the Thousand Islands chain, about 20 miles northwest of Jakarta.